Marc Mackarous, owner of M&M Graphic and MNM Sport,
turns to the production of insulation jackets
during the coronavirus pandemic.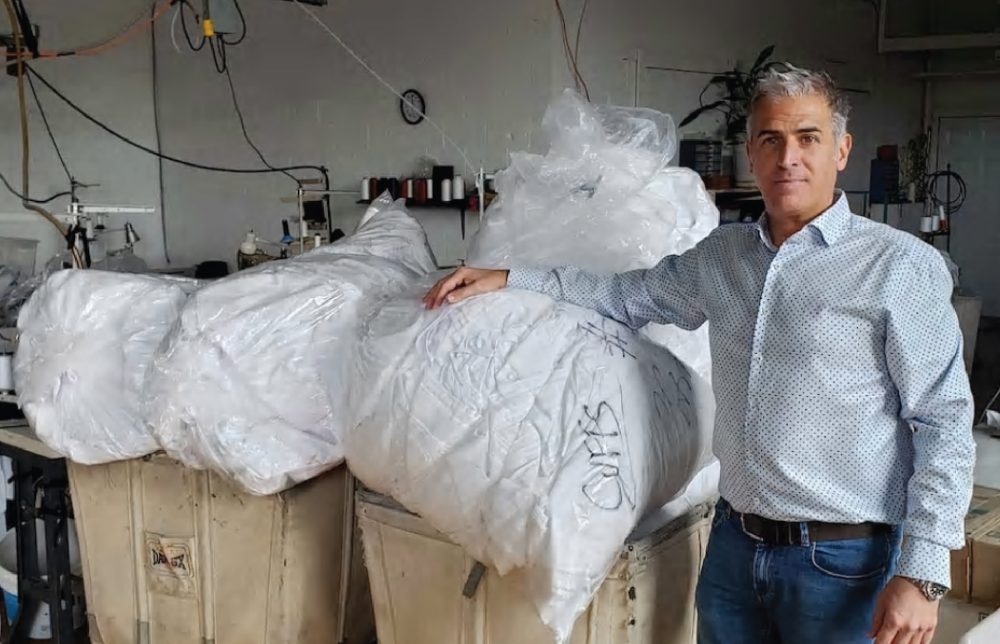 Benoît Rioux
https://www.journaldemontreal.com/2020/04/26/des-uniformes-sportifs-aux-jaquettes-disolation
It wasn't that long ago that Quebecer Marc Mackarous and his team produced many sports uniforms, but in recent weeks, his factory in Montreal North has mainly been manufacturing insulation jackets for medical personnel.
"I'm proud of my team and I'm proud to be helping out during this coronavirus pandemic," said Mackarous, owner of M&M Graphic and MNM Sport. It's the human side that is important here. I am obviously thinking of the patients, but also of the doctors, nurses and attendants who return to work despite the danger. It's fantastic to feel involved and that's the best part of it. "
When Marc Mackarous learned that his company had to cease operations because it was not an essential service, he quickly looked for a solution. The MNM Sport division, which produced uniforms for hockey, baseball, soccer, basketball and volleyball among others, would inevitably idle for a few months. Thus, there was this call for a government line, then a first order of 6000 covers.
"It allowed us to bring in a small team," says the one who holds the presidency of the company.
Naturally, despite this tremendous about-face, he sees his turnover drop considerably these days, which has resulted in a significant reduction in staff, from 65 to 15 employees. However, external designers were hired.
Urgent deliveries
In a few weeks, 50,000 covers have already been ordered, of which more than 15,000 have been delivered by his company. Concretely, faced with the urgency to act, Mr. Mackarous finds himself making deliveries to hospital unloading docks.
"When, for example, a delivery truck is not available, I go there myself rather than wait until the next day because the medical staff need it," he says. Honestly, we are used to giving delivery times and respecting them, but here, in the current context, the pressure is greater. We are shortening the normal deadlines. "
A shortage of tissue
All of these changes to the business come with their own set of challenges. Currently, it is mainly a shortage of fabrics that is bothering production. Thus, the traditional jackets, usually yellow or blue, quietly give way to white or beige models.
"We also made black or red samples, but we were told that it is easy to see if there are bodily fluids, such as blood stains," he says. I don't know if we're going to see dust jackets with flowers or other designs anytime soon, but there are now more colors accepted than before, that's for sure. The rules are less strict. We have no choice with this shortage. "
Rainbow colored covers would fit well with the concept of "it's going to be fine."
————————————
At the mercy of CH transactions
Rather than doing business with the government and hospitals, M&M Graphic and MNM Sport companies usually have many renowned clients such as the Montreal Canadiens or Cirque du Soleil.

The companies M&M Graphic and MNM Sport notably produce decorative elements for the organization of the Montreal Canadiens.
Asked about his tenure with the popular hockey club, owner Marc Mackarous gave some interesting anecdotes.
"We take care of several decorative elements, such as textile posters at the Bell Center, for example," he says. This sometimes gives rise to last minute orders when there is a transaction. I remember the day P.K. Subban got traded, we had a rush. There were several images of him at the Bell Center and a prestigious organization like the Canadiens will not let a poster showing a player who is no longer with the team in sight. "
Although guided by professional secrecy, Mr. Mackarous will probably never learn of a CH transaction before everyone else, but he does receive clues from time to time.
"I remember the day Alex Kovalev was traded to Montreal (March 2004), I was just told, 'get ready, we're going to have things to send you,' he says. There were already rumors that had started to circulate for Kovalev, so you could guess it was coming. "
Original masks
While waiting for the resumption of professional and amateur sport, the Montréal-Nord company not only produces insulation jackets, but also fabric masks. This time, the product is mainly aimed at private companies, especially in the construction industry.
"We are able to produce around 3,000 masks during an eight-hour shift, we offer them to private companies because it would take months before they are approved for medical use," Mackarous explains.
The masks are already enjoying some success since sublimation printing allows the addition of corporate logos, an idea that appeals to many companies. Some regular customers in the sports field have already shown interest in masks. This is the case with the 4 Easton Knights, a four-player fastpitch club that usually puts on shows during the summer.
"We sent them a sample," reveals the Quebecer. They are strongly considering ordering some as a promotional item or maybe even handing it out to spectators if they can present parts, this summer. "
Benoît Rioux
https://www.journaldemontreal.com/2020/04/26/des-uniformes-sportifs-aux-jaquettes-disolation